Daniel,
Thanks for your code (again)!
I am having a few issues with it, however.
First, the function "breadcrumb" should actually be "breadcrumbs"
Once I fixed that, I ran into the following issue. Here is a clip of what the breadcrumbs look like on my test contact page: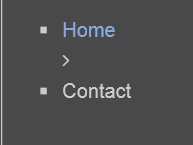 I noticed in the code that you refer to "class=crumb", but I don't see that class defined anywhere. Is that the problem?
My test site is: http://www.pfredd.com/ce4test
Thanks!
Last edited by Pfredd (2014-08-14 04:15:28)