After converting my CE4 gallery to Backlight, I assigned templates to all of the albums and album sets then went into Lightroom and changed the Publisher instance to point to Backlight.
I quickly noticed that none of the photo titles and captions were being displayed, and I remembered that the Metadata needed to be uploaded.
So I went to lightroom to republish the albums (after checking the Only Upload Metadata option).
Unfortunately, for every album I attempted to publish, I received the following error message: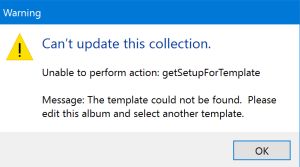 I then right clicked on an album and selected "Edit Album...". Everything looked correct, including the template, which I had set in Backlight. I clicked the "Edit" button and reattempted to publish the album. This time it worked!
I then went and Edited and saved every album, making no changes, and they all published correctly.
I don't know why this happened, but I thought you would like to know...